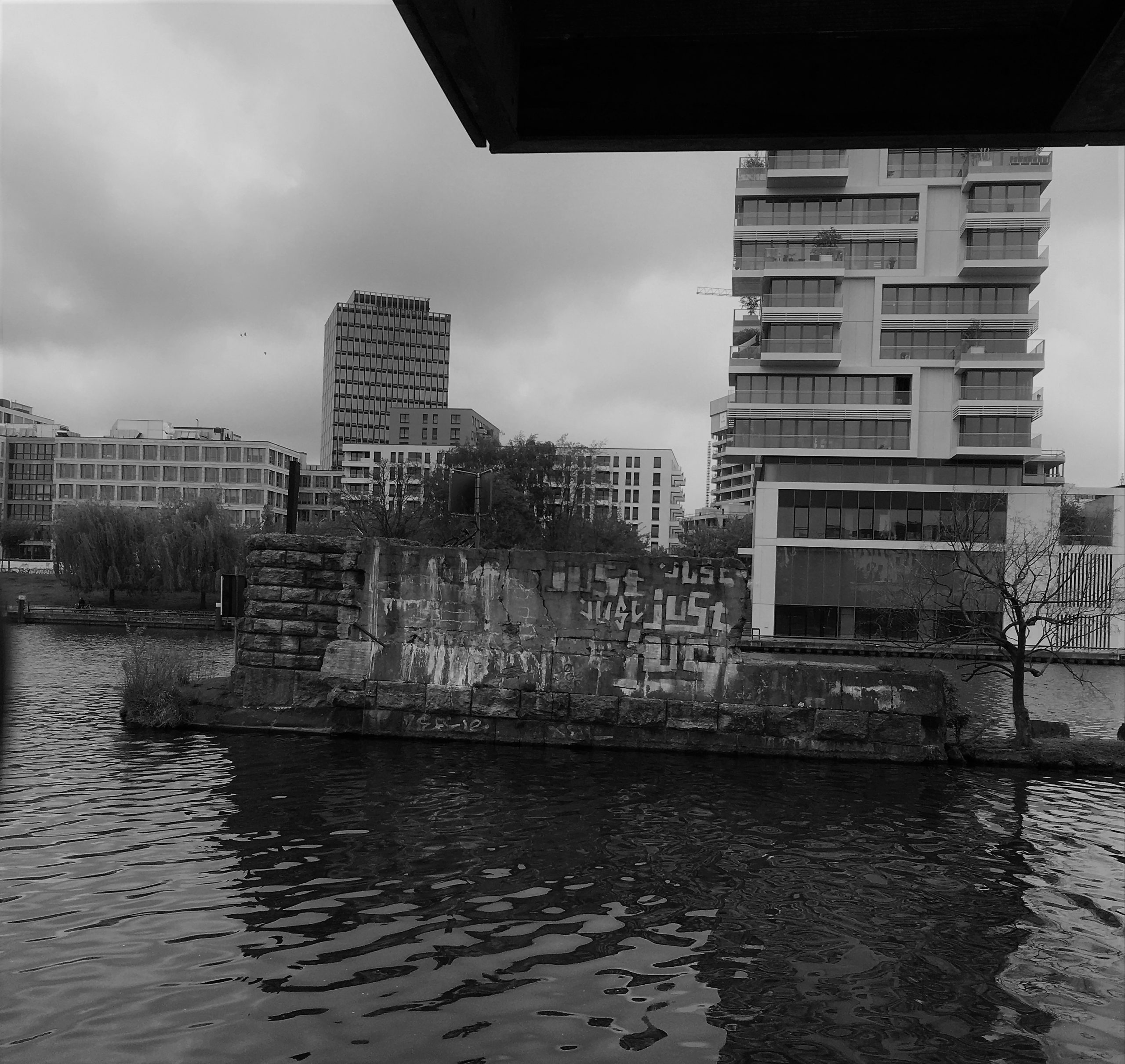 Sitting outside near the water, rain is falling slowly down from the sky but I stay dry enough to write on my laptop. The last three months when I was typing it was like I need to find places where I can feel alone or on my own to write. And some places can be just in the park wen the sun is going down and u see the Berlin tower with a view over Görlitzer park and places that can be in the middle of a bar or restaurant taking place on a table. But some situations make it so that I am trying to find a place where I can type wen it is raining and were, I can feel the wind blowing, being outside but still dry enough to keep on writing. Finding some shelters like this can be easy or hard in the way you are looking, so looking for some places I still could not found. Sao maybe this writing is finding that place here in berlin where I can sit alone and be alone to write.
Yes, I am trying to find a place where I am alone in the middle of Berlin, sitting near the water called the Spree and I think I will have found a spot for the daytime that I can be alone. And I actually like it to write some findings in myself how I am doing now. Like in the last month I did confront me like hell with myself and how I feel. The middle (second) month I was just hiding the feelings of the happening that the Corona Virus made the whole world look different, especially the switch to have that first week of march where I did a lot of partying in the clubs and made friends to party even more. To the feeling that every one stayed home and I needed to find my own in a city that looked empty. And so, the difference between that first month where I partied for five days every week to feeling alone in an empty city did felt hard on me so the struggles in April were just hard on me in what I am wanted to do. So maybe that is the point where I made a decision to do things to make my own in feelings that struggled me a long time, even when I was young like 10 the feelings with rope were there and now, I am feeling free to let expressions come out.
Saying to myself why I didn't do this when I was younger, but wen you struggle with yourself and the way how your close feelings with your mom is making things even harder. It is the ford I could stand on my own feet or was everything what happened in my youth made the feelings in me just like that. Sometimes thinning about the way, I am struggling with myself when I was between 6th and my 11th and the way the divorce of my mom and dad when I was seven made a turnaround in my life that I need to protect mom and my brother. When I grow older the biggest struggles of me were when I saw how that thing down below struggled me and even harder when a girl was saying why I crabbed my dick, and I felt just in tears because I hated that thing I could not tell anybody that I wanted a vagina just like her. Even than when I was fifteen the struggles with my om went crazy when she finding out that I love girl clothes more than the boy clothes in my closest ant always the fight with here that I not need to become the same as my dad hurt me every time. it is just that struggle that you don't want to hurt your outside world even the struggle that I hated to be alone wen even crazier when I turned sixteen and thinking about how my brother is giving me so much is hard to talk about. I could say without my brother in school between my 12th and 17th I would play suicide. So even with that struggle I found some friends online, just when I bought my first computer on my own to feel free in an online world. Still the difference in going online in the time 2002 is weird, it is so different in how the internet is now with all the Instagram stuff today and my story's on Badoo hotel are so different. Internet saved me but I still had a lot of feeling home in telling things to an outside world where I am living in. my mom did give me the biggest struggle because the way how much I wanted to be a girl, the most I need to say don't tell my mom about it because she hates is and she will punish me. it felt so hard on me that I cannot talk about the things I love with my mother just because I was too afraid, she will hit me, or giving the feeling that I am doing something bad.
Telling all this here is the way how hard it has for me to find my own spot in the world. So, finding hideouts in online gaming and falling in love with an outside sport called kiting, like the big kites where you can kitesurf with, did bring be joy. But the biggest struggle was still my sexual feelings what I wanted in being a girl and wanted to be normal as a girl. Even the hard things to thinking than I need to be going on forget everything and make it like a fetish. Even now I think about how stupid I felt saying that to myself just to survive my outside world and my mom. So, when my mom died when I was 28th I fall in a big hole and I needed to find things in myself and my mother in law did give me the final push. I love here so much. So bla bla bla about my history, now I am going to something in what I am doing now is more like a miracle. I am throwing things away to be part of myself without limitations in what I want even I know that sometimes my body is still the hardest struggle in my life. It is just like the mirror confronting you with your body and that can hurt your soul. seeing yourself not as powerful doing this in my younger years I think I can praise me lucky that I can do this now and even the step in going to Berlin is making me happier than ever, even the struggles are helping me to be happy. Mostly because it is putting me right on the spot to do things your way with your own afford. And doing things with your own afford can be hard in the way how I never ever did something on my own to work hard enough in my life to reach things. Even now in a beginning of time wen the situation is confronting me to search myself, and that's why I went to Berlin. Because the place where I lived was not giving me the confronting spirit to do things with effort. It is how I grow up that my mom decided it and did it, always there to do things for me and not putting me in life to do things on my own. Even making decisions was the hades part. Sometimes I wished she needed me to let me fall hard on the ground end I never felt it. So now I am falling in a difficult situation just on my own here In Berlin and I need my own power to come out of it. The things to see how it is to fall is something new for me and I didn't experience it in my younger years. So maybe it is harder to do it now but I am feeling the same with some struggles I had when I was sixteen, so yea having a body what is thirty-four and a soul what wants to be sixteen in exploring and doing things.
And now I am coming to a point were even I felt bad in how my body is. I am not saying I am fat (overweight) or not having the power to do sport, even I think that there are people thinking that I am crazy in saying this. But the difference is that the habits you grow in your younger years are hard to change. So how is it to change your body and soul wen you are in your thirty's and how much I really think my limitations in what I have in getting my hormones on a good level. I feel it is best hard to accomplish this with the doctors. So, I find me with more struggles in how I can be myself in who I am, what I can be in the world around me and how I can do that without of the medical point that I am sick? Ahh that's hard to say but it is some trough about how I am pushed into a corner were the healthcare is making me a prisoner of my own life. So am going to talk that in another topic in how I think that the number of hormones in your body is making you your own body better in society. (like the smell what u produced (body smell) is making you better in understand how other people think about you) but that's another topic.
I am going to tell that the situation is pushing me to find more in myself more out of my comfort zone and more in a feeling how hard life cane be, but exactly that hard feeling can be put out in an afford. And that effort in life is making yourself doing things you like and that gives power to work on it. So, I am here in Berlin to have enough struggles to accomplish this in me. and one of that is feeling things in rope and so I come to another topic I will talk later about it in more detail. So, to give you some hints it is about Shibari or also called Kinbaku. It is a Japanese word and the first is meaning the art of rope being tied around a body to give a pleasure in feelings and looks. The second is being tied tightly and often preferred to go more extremer in the conditions that are applied. More the same but still there is equally a difference. And to put it in an English word we can called is Bondage, bit I think Bondage is a wrong and to easy word in what Shibari or Kinbaku is.
So, my last week or actually three here are struggling to get some rope and practicing on my own more and more. Looking around to find some events going on to try in finding a partner to practice with is still a hard and difficult thing to find in these times with the Corona happening. So last Saturday I found a small event with four people to have some rope practice and I really liked it. Some times it is easy to start with some basic things and even like myself mostly is doing is grab to high and eventually lost the interest in doing it. So, keeping on in a slower start I still feel attractive to suspend myself and feel the way how it is to hang in the ropes. And I need to say in what a am practicing things on my own I really like it. So, to say more about this and my body, it is not easy and I really need to put effort in it to hang. It can be painful in a way and I feel the attraction to lose weight and do some muscles training more and more. Looking to this I hope I can find the power in me to get trough the struggle and keep on doing these things. So, I am feeling great with the practicing in ropes and it gives me a way to look forward to practice more and keep my body in a healthy shape. Or getting forward to get my body in a better shape to perform in this world. I hope so I can keep up with this feeling in me and how I can give this power to keep on. It can be hard to say it because often I can lose interest in things I am talking about. Where can I found power to keep on doing things in reaching it what just need more effort in reaching it. Things you need to work hard on your own, things I actually never ever did before. Yea maybe one, my transition in gender. My transition in doing the feeling that is inside me and I am working on it. So that effort in going to Berlin is really giving me power and the struggles are part of it to reach it. It is giving me the feeling in how hard and good life can be just because you are confronting yourself with life. It is a learning proses what I never bin trough my whole life and now I feel the confrontation that I feel so much more ready to see trough life. Maybe a little bit to late but better late than never.