I am falling in love with rope even more, my last taste together with A is making me feel great and I can't stop loving the feeling that he can give me while I am hanging there in his ropes. I felt amazing last Tuesday and my feel to explore more and more is coming alive. The place where I live is giving me the opportunity to do it and so I am heading to another event this evening.
How can I explain this without a picture 🙂
It is the first time I had a real Rope session with suspension done bye someone else, and that someone is also one I love. Love in how he treats me, sitting there and handing over my body. His way of play and touch over my naked body is setting me free in myself.
I am floating away; I feel I am there but the way we started was amazing. The way of me feeling free to get there naked felt like normal with A. He is giving me a trusty comfortable feeling. Saying to me that I can sit here on my legs just below the swivel what is hanging above me. Here I sit down and he gives me a harder tickling massage, his hand is touching my face to close my eyes what already were closed. Grabbing a piece of rope and handling my hair with his hand, pulling on it to control my upper body and head. Just perfect between hard and not painful. Ways of rope and my hair is being tied in front of my eyes and I am blind folded, some smell of the rope is getting in my nose and I am feeling a calmness over me with a trust building between us. Some relaxing piano music on the background is bringing me in a state of letting go. He is grabbing more ropes, and putting my hands in front of me. In a few seconds my hands are tied around my breasts and he is walking around me to tighten up the rope. The hands of A are pushing and tickling me together with the knots he is trying. I never had the feeling I could feel so relaxed, beautiful and exited in one time, my trust is in him and I feel myself in another state. He grabs my head and the rope behind my back and pushes me on the ground and handling me up again. Sitting here blindfolded is giving me my hearing in a full sense and wen he touches me it feels warm and dominant over me. While he is walking around me the way I feel is getting amazed of how nice he is playing with my senses. Pushing me down for a second time is getting me back with the ground and up again. He pulls on me to get me right up to a standup and while I am standing in my feet now the next rope is already in his hands to put around my left upper leg, he is making a harness around my hips.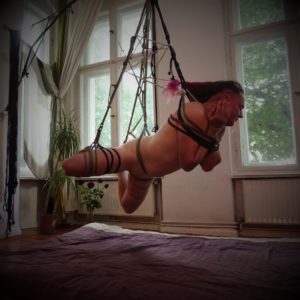 The next rope is made around my back the rope that holds my hands in front of me. The peace of rope is going through the swivel above me and he pulls me up just on the level that I can let my tip of my toes reach the ground. A piece of rope is getting around my right foot and he is binding it together with my upper leg. Here I hang now with my right leg folded and only one tip of my toe is reaching the ground. Wen the next rope is getting on my hips to get pulled in the air my orientation is gone, I know I am hanging in the air but I am feeling totally away from earth. it's the first time I am feeling this way and my brain is letting me make some dizzy feeling, I love this feeling and I don't know how. Its new and I am amazed in getting lost of my own body to trust someone else totally. I am feeling comfortable and allot of endorphin is rushing through my body. My left leg is being pulled higher up and he is starting to turn me around. The feeling of turning is bringing be back with some orientation and the dizzy feeling is getting away. In the mean while he is getting a camera and starts making pictures of me. he is pushing me so that I am turning round and I am feeling totally in the moment. After the pictures he is unfolding my rope around my face, while he is getting a good knot around my hair and pulls it up so that my head is pulled up with it. He is getting his hands around my nose and mouth and while I feel I can't breath for thirty second my body is feeling amazed after this little chocking part.
Again, he turns me round and making some more pictures and here I am, feeling my state of mind and body coming together as one part. Now he is lowering my head and shoulders to the ground and the weight of my body is hanging on my hips and left leg. My neck and ear are reaching the ground but my shoulder barely touches the ground. Again, he is making pictures and turning me round so that my ear is feeling a twist of the soft Japanese mattress. Now he is lowering my hips and my feet together and I throws the rope over me, some just in front of my nose so I am smelling the hemp were the rope is made from. This brings me in what I smell and what I feel and love in rope, A knows how to do and he is treating me to feel calm and free together with the rope, lying down there softly on the mattress. Making pictures of me resting on the ground brings the end nearer. After a strong massage and tickling feelings, he is pushing me into the mattress and with some little slapping on my ass the first session of this evening is slowly ending.
His feelings and the way I am aware of it is, totally in his trust bringing me really far into myself of letting go and be there with that whole body and soul together. It gives me power and I can't stop thinking about these feelings. I want more and I can't wait till I'll be hanging there again with A. Maybe the next time it will be in Club KitKat or the third one. A I thank you for your power and feelings over me, I love your way in who you are.